Get Well Flowers
Letting someone know you're thinking about them when they're sick or feeling down can make such a difference. Send your friend or loved one the gift of flowers to lift their spirits. Get Well Soon gift baskets are another great choice. We can fill them with juice and snacks, which is perfect for someone needing their bed rest. GLADEWATER FLOWER SHOP can deliver to all local hospitals as well as homes in Gladewater and even across the country! Give us a call, stop by, or shop online! We have everything you need for Get Well wishes.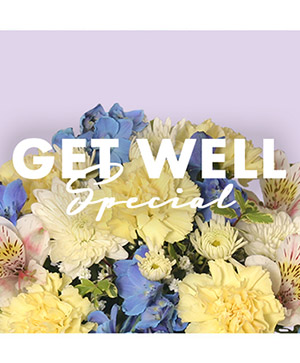 Get Well Special
Designer's Choice
These flowers are the perfect way to say, "Get well soon!" Show them you care with beautiful flowers designed by our expert florists. This arrangement is sure to put a smile on their face when they need a little something to lift their spirits when they're feeling sick!
Order within 27 minutes for Same Day Delivery!
Premium Get Well Florals
Designer's Choice
Flowers like these are just what they need when they're feeling under the weather! These aren't just any flowers—they're the perfect way to brighten their day when they need some happiness in their life! Send our Premium Designer's Choice Get Well flowers today.
Order within 27 minutes for Same Day Delivery!
Hospitals and Health Care Providers in Our Delivery Area:

| Name | Address | Phone |
| --- | --- | --- |
| Care Inn Of Gladewater | 300 Money St Gladewater, TX. 75647 | (903) 845-2101 |
| Gladewater Nursing Ctr | Po Box 1527 Gladewater, TX. 75647 | (903) 845-2175 |
| Truman W Smith Chldrn's Cr Ctr | Po Box 1468 Gladewater, TX. 75647 | (903) 845-2181 |
| East Mountain Clinic | 1801 Fm 1844 Gilmer, TX. 75644 | (903) 230-5177 |
| East Texas Medical Ctr | 712 N Wood St Gilmer, TX. 75644 | (903) 841-7100 |
| Rehab & Healthcare At Gilmer | 1704 N Bradford St Gilmer, TX. 75644 | (903) 843-5696 |
| Sensitive Care Inc | 703 Titus St Gilmer, TX. 75644 | (903) 843-5529 |
| Upshur Manor | Rr 11 Box 11506 Gilmer, TX. 75644 | (903) 797-2143 |
| Gardens At Hawkins Co | Po Box 1069 Hawkins, TX. 75765 | (903) 769-9105 |
| Hawkins Care Ctr | Po Box 430 Hawkins, TX. 75765 | (903) 769-2941 |
| Gregg Home For The Aged Inc | Rr 5 Box 135 Kilgore, TX. 75662 | (903) 984-5688 |
| Heart Of Texas-Kilgore | 2700 S Henderson Blvd Kilgore, TX. 75662 | (903) 984-3511 |
| Laird Memorial Hospital | 1612 S Henderson Blvd Kilgore, TX. 75662 | (903) 984-3505 |
| Laird Memorial Hospital | 1306 Houston St Kilgore, TX. 75662 | (903) 983-2406 |
| Stone Road Nursing Ctr | 3607 Stone Rd Kilgore, TX. 75662 | (903) 984-5036 |
| Alpine House | 2104 Alpine St Longview, TX. 75601 | (903) 234-8600 |
| Brentwood Outreach Ctr | 1121 Judson Rd # 163 Longview, TX. 75601 | (903) 234-9859 |
| Buckner Westminster Place | 2201 Horseshoe Ln Longview, TX. 75605 | (903) 234-0000 |
| Christian Retirement Ctr | 319 Eden Dr Longview, TX. 75605 | (903) 757-4411 |
| Clairmont | 3201 N 4th St Longview, TX. 75605 | (903) 236-4291 |
| Cleaver Memorial Ctr | 1000 Sapphire St Longview, TX. 75602 | (903) 753-8608 |
| Eastman Estates | 2920 N Eastman Rd Longview, TX. 75605 | (903) 757-6020 |
| Eden Place Apartments | 327 Eden Dr Longview, TX. 75605 | (903) 757-9181 |
| Good Shepherd Medical Center | 700 E Marshall Ave Longview, TX. 75601 | (903) 315-2000 |
| Grand Court Longview | 2910 N Eastman Rd Longview, TX. 75605 | (903) 758-6332 |
| Highland Pines Ctr | 1100 N 4th St Longview, TX. 75601 | (903) 753-7661 |
| Hillside Village Ltd | 205 W Whaley St Longview, TX. 75601 | (903) 753-5665 |
| Holiday Lodge Nursing Ctr | 1301 Eden Dr Longview, TX. 75605 | (903) 234-9328 |
| Holiday Lodge Nursing Home | 1301 Eden Dr Longview, TX. 75605 | (903) 753-7651 |
| Ihs Of Longview | 112 Ruthlynn Dr Longview, TX. 75605 | (903) 753-8611 |
| Longview Children's Clinic | 2430 S High St # C3 Longview, TX. 75602 | (903) 758-1818 |
| Longview Occupational Medicine | 1300 N 6th St # 104 Longview, TX. 75601 | (903) 757-0577 |
| Longview Regional Medical Ctr | 2901 N 4th St Longview, TX. 75605 | (903) 758-1818 |
| Lynn Lodge Nursing Ctr | 111 Ruthlynn Dr Longview, TX. 75605 | (903) 757-2557 |
| Meadow Pines Inc | 22 Bermuda Ln Longview, TX. 75605 | (903) 663-4411 |
| Pine Tree Lodge Nursing Ctr | 2711 Pine Tree Rd Longview, TX. 75604 | (903) 759-3994 |
| Summer Meadows | 301 Hollybrook Dr Longview, TX. 75605 | (903) 758-7764 |
| Whispering Pine Lodge | 2131 Alpine St Longview, TX. 75601 | (903) 757-8786 |